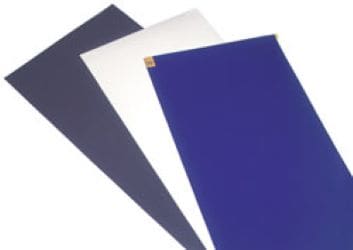 Remove contaminates from your footwear with Cleanroom Tacky Mats from Midwest Production Supply.
Showing all 9 results
Regardless of how clean you try to keep your footwear or equipment wheels, some dirt and dust is bound to stick to the bottoms. Tacky mats help prevent these contaminates from entering the cleanroom.
Ensuring no contaminates enter through your footwear is necessary in any cleanroom. If you have any questions regarding our tacky or cleanroom sticky mats, we can help you find the right product for you.
Cleanroom sticky mats are available in 30 or 60-layer versions. Each layer of the mat is fully coated with a particle grabbing adhesive and constructed of low density polyethylene film. A low profile numbered tab indicates the number of remaining layers and ensures one layer at a time removal.
Midwest Production Supply carries a variety of cleanroom peel-off tacky mats from Berkshire, Purus, and MPS at discounted prices.  These mats are available to ship immediately.
In addition, Midwest Production Supply carries long lasting contamination control matting from Dycem.  Compared to peel-off mats, Dycem mats are cost effective as they have a life expectancy of 3-5 years and if maintained correctly are more effective at removing contaminants from your cleanroom.